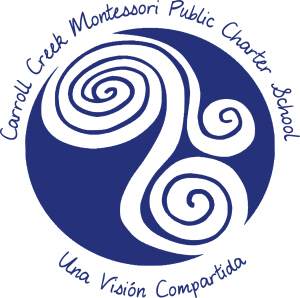 Una Visión Compartida
Carroll Creek Montessori Public Charter School (CCMPCS) is a public charter school that is operated by a non-profit organization, Monocacy Montessori Communities, Inc. (MMCI) within the Frederick County Public School system. CCMPCS offers a Montessori-based learning environment based on the Montessori Method as well as Spanish instruction for all students. As a public charter school, CCMPCS is free and open to all residents of Frederick County. CCMPCS especially encourages native Spanish speaking families to apply.
Our Vision
At CCMPCS, we will instill a lifelong love of learning in our students by providing an optimum Montessori-based learning environment in which they will grow to become independent, confident, creative and caring members of our community and the larger world.
Our Mission
To achieve this vision, CCMPCS's mission is to build a community in which students, parents, and staff work together to educate the "whole child," the sum of the physical, emotional, social, and intellectual parts. We will implement a Montessori-based curriculum to give students the hands-on tools they need to be active learners both in and outside the classroom. By offering English with Spanish enrichment or dual-language Spanish instruction to all students, we will provide a unique opportunity for students to learn a second language at an early age and develop multicultural awareness.